Esposizione e laboratorio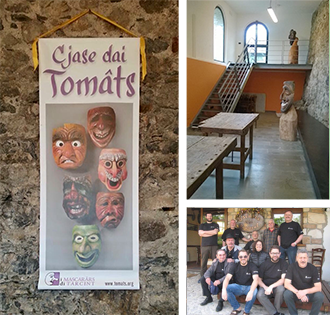 LA CJASE DAI TOMÂTS A TARCENTO
La Cjase dai Tomâts (La casa dei Tomâts) gestita dai volontari dell'associazione "i Mascarârs di Tarcint" (I mascherai di Tarcento), espone i Tomâts, le maschere lignee caratteristiche del Carnevale tarcentino. Nel laboratorio c'è la possibilità di vedere i mascherai all'opera.
THE HOUSE OF TOMÂTS IN TARCENTO
The Cjase dai Tomâts (The House of Tomâts) is run by the volunteers of the "Mascarârs di Tarcint" Association (Mask Masters Association). The typical wooden masks of the Carnival of Tarcento, Tomâts, are on display here, while in the workshop you can watch the mask masters at work.
DAS TOMÂTS-HAUS IN TARCENTO
Die freiwilligen von dem "Mascarârs di Tarcint" Verein (Meister der Masken Verein) leiten das Cjase dai Tomâts Museum (das Tomâts-Haus), wo die typischen Holzmasken (Tomâts) der Fasching von Tarcento zur Besichtigung sein. In der Masken-Werkstatt schauen Sie auch die Meister bei der Arbeit zu.
Indirizzo / Address / Adresse:
via Divisione Julia 6
33017 Tarcento (UD)